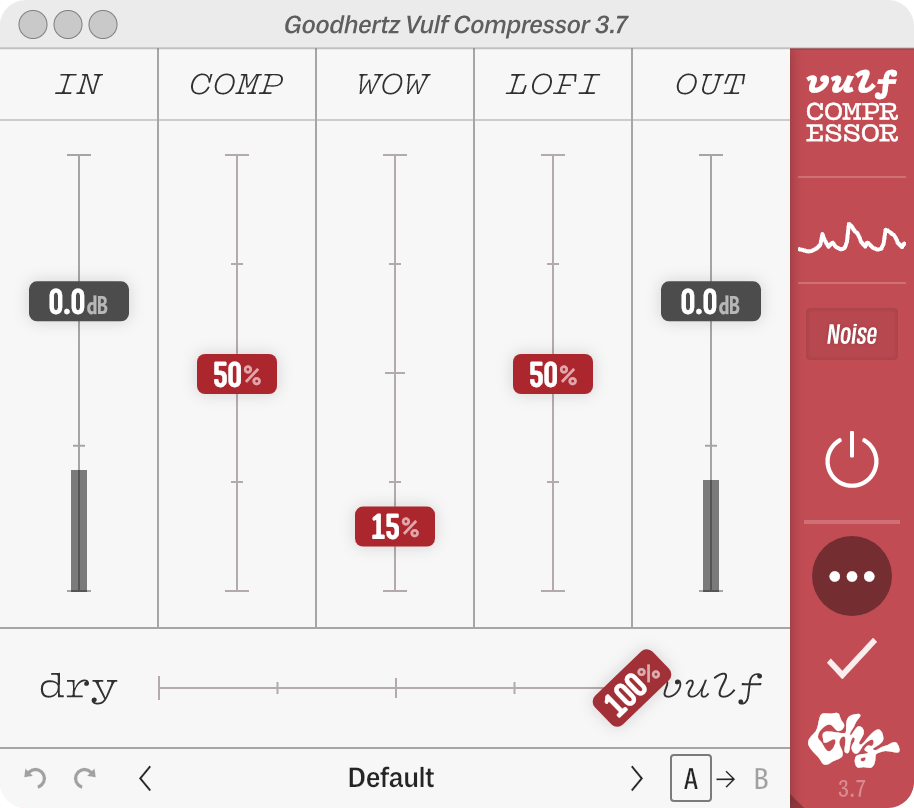 Beastly compression, by Vulf
"Compression really is the salt of music mixing. It's the ultimate tool of a mix engineer and the Vulf Compressor is a really boutique, top-shelf Himalayan pink sea salt. This can really change the direction of a song. It's kind of a one-trick pony in the best sense, in that it gives our songs a really distinct sound and some people will just put it on the entire track. It's been a really cool addition to people finding out about Vulfpeck through this plugin. I really believe in it. We would not be selling it or commanding that price if it wasn't a total game changer."
"On the outside it may look like a Volvo, but under the hood it's a monster truck!!"
"I bought the compressor."
Getting to know Vulf Compressor
Sometime around the turn of the century, an unknown Japanese DSP engineer engineered a radically weird compression algorithm for the Boss SP-303 Dr. Sample Sampler.
Years passed, and this "Vinyl Sim" compression languished in obscurity, a dark art known only to practitioners of instrumental beatmaking, producers like J Dilla and Madlib.
But then Vulfpeck's Jack Stratton read about the compression algorithm on a forum and enlisted two friends, Devin Kerr and Rob Stenson (co-founders of Goodhertz), to bring that algorithm to life in a digital form.
But Devin did more than just bring it to life — he expanded the algorithm, fine-tuned the sound, perfected its oddity.
And now that compression is the Vulf Compressor.
Vulf Compressor in use
June 26, 2020
HAIM - I've Been Down
"I've Been Down" features Wow Control and Vulf Compressor on the keys to recreate the sound of "an old or sampled recording."
May 1, 2020
Dua Lipa - Don't Start Now
Vulf Compressor was featured on Dua Lipa's lead vocal on her multi-Platinum, Grammy-nominated single, "Don't Start Now."
May 18, 2018
BTS - FAKE LOVE
"There's also another ghost snare, the 'vibe perc snare', on which I have the Vulf, which is a very vibey, slightly vintage‑sounding compressor, which can sound brutal. Sometimes brutal is good! It has a great sound to it, and it is compressing the room" — James F. Reynolds (Mix Engineer)
March 29, 2017
Holy Trinities: Tambourine
Vulf Compressor gets a shout-out in this video from Jack Stratton on his three favorite tambourinists.
Nov. 8, 2015
A Brief History of Vulf Compressor
In a short podcast, Jack Stratton tells the story of the Vulf Compressor from inception to realization.
April 16, 2015
"Cars Two" (Trem Ctrl → Vulf Compressor → Faraday Limiter)
Manipulating the opening drum sample of Vulfpeck's "Cars Two" with a chain of very intense Goodhertz plugin processing.
June 25, 2014
Vulf Compressor Demo 001
The very first demo of Vulf Compressor, from the spiritual guide behind its development, Jack Stratton
Merch!
Vulf Compressor T-Shirt